SARSE
A graphical sequence editor for working with structural alignments of RNA.
The software is now available: Version 1.37 (2007-10-25)
Complete package: sarse-1.37.tar.gz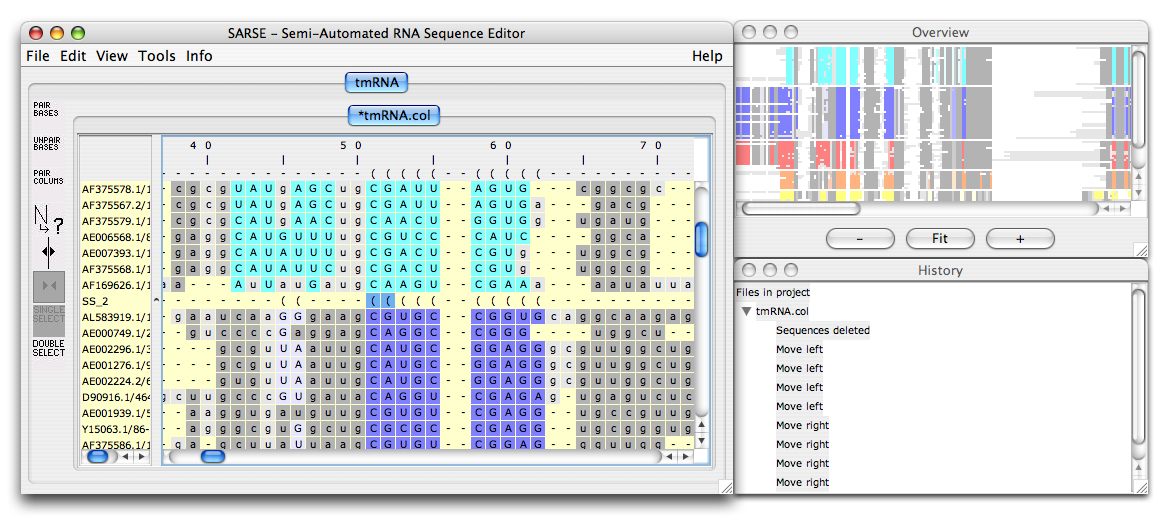 Citation
For usage of the editor please cite:
Semiautomated improvement of RNA alignments E. S. Andersen, A. Lind-Thomsen, B. Knudsen, S. E. Kristensen, J. H. Havgaard, E. Torarinsson, N. Larsen, C. Zwieb, P. Sestoft, J. Kjems and J. Gorodkin, RNA 13:1850-1859, 2007.
Features
Basic alignment editing.
Split view.
Unlimited undo/redo across sessions.
Embedded alignment analysis tools e.g. RNAdbtools, pfold, pcluster.
Extendable with your own commandline tools.
Interactive overview function.
Support for fasta, wide-text and column formats.



Comments, questions, etc., email webmaster@sarse.ku.dk.